Mobile phones increasingly have larger and longer screens, which makes it increasingly difficult to access quick settings. This application facilitates access to these settings, allowing us to open them by sliding from the bottom of the screen. An application easy to use and very very useful.
The ideal application to access quick settings on a large mobile
A feature that iPhone users valued was the access to quick settings from the bottom of the screen. With the arrival of the iPhone X is something that has been lost, but in a world where smartphones do not stop growing, it makes perfect sense to recover. At least on Android.
Increasingly large phones and increasingly elongated screens make accessing quick settings with one hand very complicated. Wouldn't it be easier to access by sliding from the lower area? Something like that has thought the developer of Bottom Quick Settings, the application we are talking about today.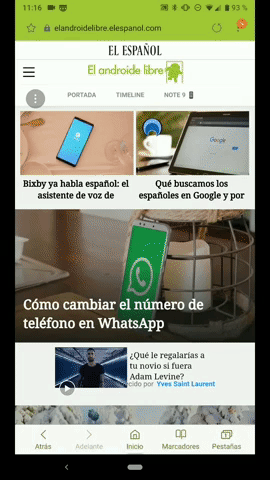 It is a very simple application without much mystery. Simply install it and give it the necessary permissions. A bar will appear at the bottom of the screen, very discreet. Swipe up, and quick settings will appear.
The design of these quick settings will not be that of your own mobile, but it has the style of Android 9 Pie, a design that I particularly love. Perhaps the greatest difficulty of this application is to use a mobile system that has a gesture system implemented, since could lead to confusion in our experience of use
Bottom Quick Settings is a free application without ads. However, in its free mode we will only have the basic settings we will have the default design and access. The application has a micropayment of 2.79 euros which allows us to expand the experience it offers with:
Be able to change the color theme of the quick settings.
Add more quick settings like WiFi hotspot or multimedia controls.
The one we like the most, be able to add shortcuts to applications or web pages.
Add a slider to modify the volume.
With the free features it seemed useful, but it is that everything that adds the Pro version you can make it one of your favorite customization applications. Did you have a Google Opinion Rewards balance and didn't know what to spend it on? The Pro version of Botton Quick Settings is a great candidate.